GloZell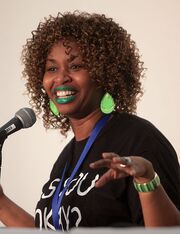 Lynette Simon
(née Green, born July 30, 1972) is an American comedian and YouTube personality based in Hollywood, California.
Green established her YouTube channel in 2008, with video interviews, comedy about her life and song parodies. As of August 2014, the channel had accumulated more than three million subscribers and more than 500 million total views. By the same month, six of her individual videos had each been viewed more than 10 million times, such as her "My Push up Bra will help me get my man" video (23 million views) and her cinnamon challenge video (40 million views). She gained wide notice when her vlog about meeting Elijah Wood was mentioned by the actor during a 2011 interview on Jimmy Kimmel Live!. In 2012, she appeared in the web series Dr. Fubalous. In January 2015 GloZell interviewed Barack Obama in a YouTube livestream hosted at The White House. GloZell appeared at VidCon 2015 on July 25, 2015 to promote Game Shakers with the cast and Josh Peck. During the screening, it turned out she will guest star in Pilot.
External Links
Ad blocker interference detected!
Wikia is a free-to-use site that makes money from advertising. We have a modified experience for viewers using ad blockers

Wikia is not accessible if you've made further modifications. Remove the custom ad blocker rule(s) and the page will load as expected.