"
She told me she wanted to!
"
Gerald is a guest character in Game Shakers. Gerald works for Happy New Ears, a neighbouring facility beside Game Shakers.
Information
Gerald is a worker in Happy New Ears. He wasn't poisoned but his friend, Dr. Loeb was.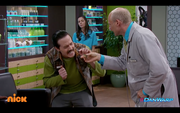 Personality
He is weird and acts strangely.
Trivia
He works in Happy New Ears.
Dr. Loeb got sick because Gerald put a turtle in the cucumber water Dr. Loeb drinks daily. However, Kenzie and Babe's peach pie was blamed at first.
Ad blocker interference detected!
Wikia is a free-to-use site that makes money from advertising. We have a modified experience for viewers using ad blockers

Wikia is not accessible if you've made further modifications. Remove the custom ad blocker rule(s) and the page will load as expected.